Demo facilities
In the heart of Copenhagen, two pioneering demonstration facilities showcase the future of water distribution, powered by the innovative LEAKman solution. Marrying state-of-the-art technology with Danish expertise, these sites dramatically reduce non-revenue water (NRW) to sustainable levels. Dive in and witness the next-gen approach to water loss control.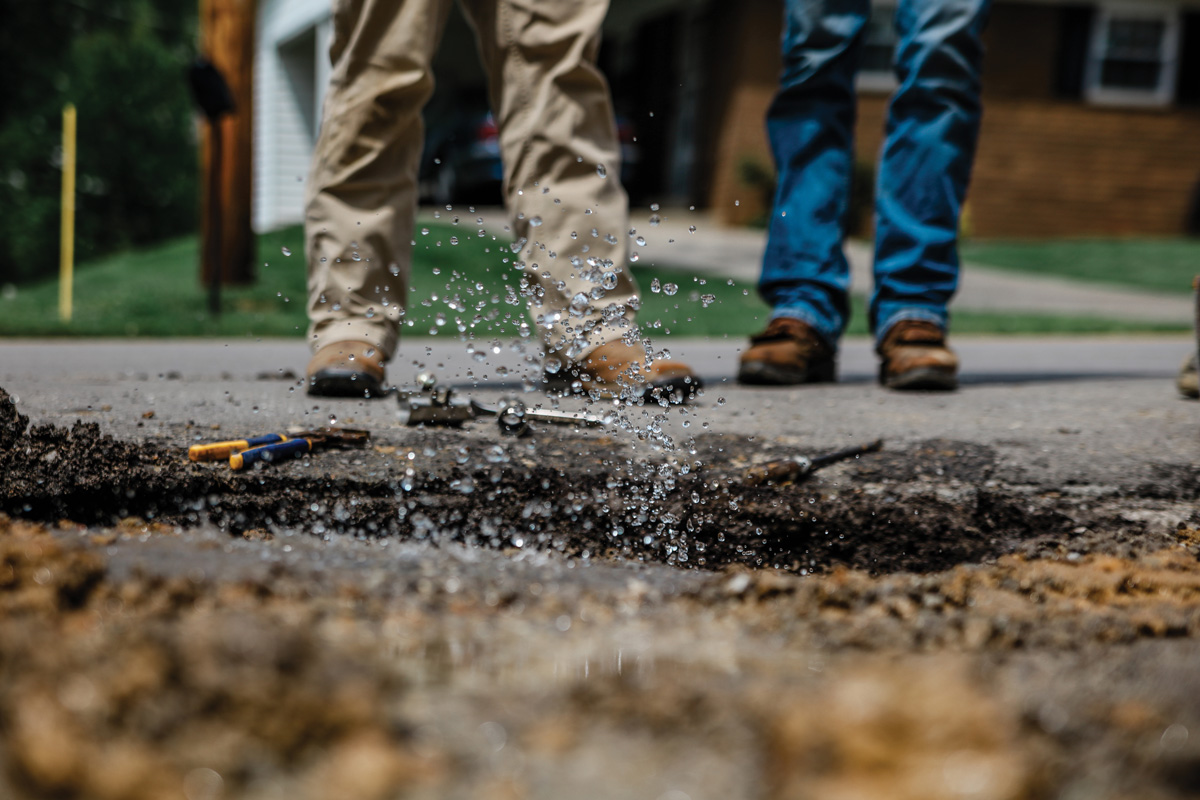 Frontpage picture: Kamstrup
State-of-the-art Demonstration Facilities Reducing NRW to a Sustainable Minimum
In the northern capital region of Copenhagen, Denmark, two large-scale demonstration facilities have been established. Here, we combine our joint knowledge and technologies, implemented in full scale to test, verify and optimize leakage management solutions. In the demonstration areas a combination of intelligent valves and pumps (facilitating pressure management via pressure reduction and demand-driven distribution), online hydraulic modelling, water balance reporting on DMAs, valves with automated position indicator and noise loggers listening for leakages has reduced leakage levels to a sustainable minimum.
The LEAKman solution is implemented on a total of 107 kilometers of main pipes and covers 5,200 consumers supplied with 1.3M m³ of water each year.
The hardware monitors the four utility networks and generates data for advanced Management Information Systems (MIS) such as HOMIS or tools for hydraulic modeling. Thus, the integrated leakage management solution consists of multiple initiatives: Hardware, software, methods, analysis and training.
Full Scale Implementation
The LEAKman solution has been developed by an association of nine Danish partners representing technology providers, consultants, water utilities and the Technical University of Denmark. Each of the partners are leaders within their field of expertise, delivering world-class products and knowledge for NRW management and water loss control. The LEAKman solution was fully developed and implemented at two large-scale demonstration sites during 2016-2021, supported by the Eco-Innovation Program under the Danish Ministry of Environment. Even though the demonstration sites were completed in 2021, the LEAKman solution will continue to be improved by the initial and potential new partners as new technologies are developed and more effective tools are identified.
Constructing the demonstration facilities.
The large-scale demonstration facilities have been established at the Danish water utilities Novafos (water utility supplying 425,000 consumers in municipalities north of Copenhagen) and HOFOR (Copenhagen Utility, supplying 891,000 consumers) to showcase the LEAKman concept. The solution has been fully implemented on a total of 107 kilometers of main pipes and covers 5,200 customers supplied with 1.9 M m³ of water each year.
At these facilities the LEAKman solution is implemented in full-scale combining all available knowledge and technologies, which creates a unique opportunity to test, verify and optimize each element of the LEAKman solution as well as the interfaces between systems.
The implementation includes installation and use of intelligent valves, pumps, deployed noise loggers, smart meters, smart inspections, SCADA, online hydraulic modelling and a holistic management information system configured for automated calculation, display and reporting of selected performance indicators. The first step of the full-scale implementation was to plan and prepare the hardware installations and their integration with both the existing infrastructure and the involved IT systems.
This was followed by on-site installation of instruments, deployment of noise loggers, smart meters, intelligent valves, valve positioners and intelligent pumps. The hardware components installed perform a combination of pressure management and active leakage control. All data is connected to an online real-time hydraulic model (Aquis) and an online holistic management information system (HOMIS), which in combination creates a digital twin of the water supply network that provides an intelligent layer used for reporting, analysis, optimization and training.
Value Proposition
For decades, each of the LEAKman partners has delivered solutions and innovations within their specific field of expertise. However, the solutions are often installed as part of separate projects, with only little or inefficient interface between the different components. Consequently, the full potential of the entire system is never reached. The LEAKman solution is unique in the sense that the partners of this concept have united to deliver a single, holistic solution, which combines several smart systems and seamlessly integrates and monitors them holistically, thereby connecting the entire water distribution network. The result is one solution that facilitates water loss reduction to less than 20 per cent for any system within just a few years – with possible reductions to below 10 percent.