We can reduce your water loss to below 10%
LEAKman offers water suppliers one integrated leakage management solution to bring down Non-Revenue Water levels – less than 20 percent within the first year.
One unique Danish solution to stop global water loss
The LEAKman solution was developed by nine Danish partners representing technology providers, consultants, water utilities and the Technical University of Denmark. Each of the partners are leaders within their field of expertise, delivering world-class products and knowledge for leakage management. A unique feature about LEAKman is that the partners work collectively to deliver one single holistic solution for Non-Revenue Water management. This is a 360-degree approach combining technology, knowledge and experience from all partners.
The purpose of the LEAKman initiative is to demonstrate Danish solutions for limiting losses from drinking water systems and pave the way for new technology. The goal is to develop the best state-of-the-art leakage management solution.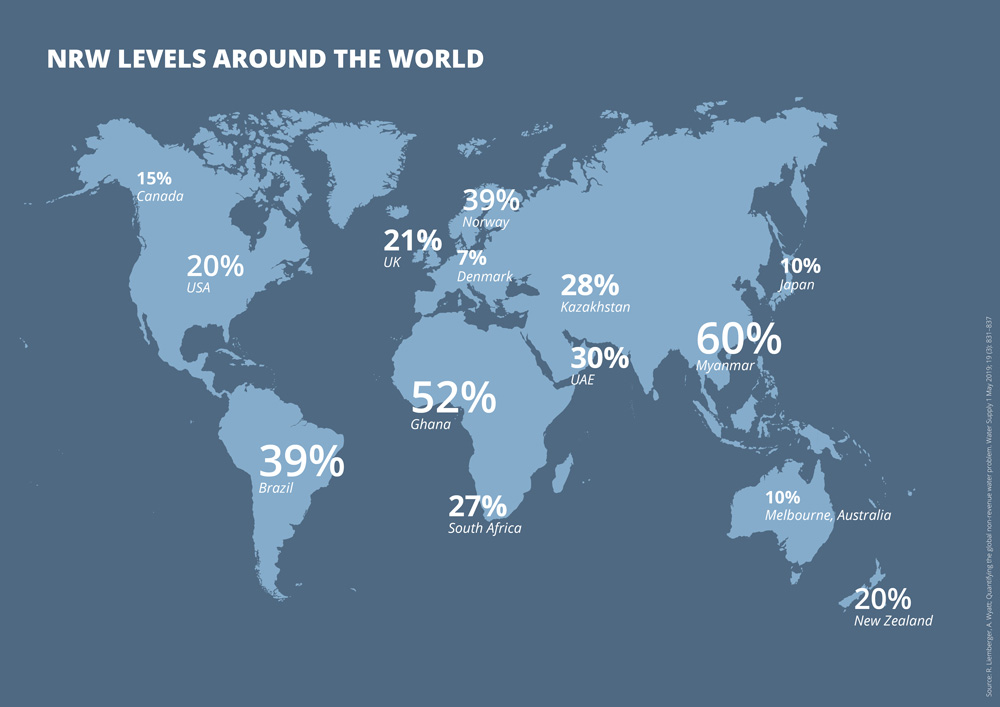 Source: R. Liemberger, A. Wyatt; Quantifying the global non-revenue water problem. Water Supply 1 May 2019; 19 (3): 831–837
A world of difference in NRW levels
Non-Revenue Water levels varies around the world from close to 5 percent to as much as 80 percent, and an average of 40 percent globally. Reducing NRW levels is a pivotal management challenge that requires a committed effort in multiple areas.
Sustainable leakage levels are defined by the International Water Association as the Economical Level of Leakage (ELL) – the optimal level where utilities are maximizing both economic and resource-related benefits. Effective Leakage Management is based on four well-known and very important main pillars: Pressure management, active leakage control, speed and quality of repairs and pipeline management and rehabilitation.
Sustainable water management is besides being environmentally viable simply good business. In the long run, a sustainable approach to clean water supply does not cost money – it saves money, for both the utility and the consumers.